ERO Electronics is the current brand name for the range of process control instrumentation manufactured by Eurotherm srl.

The product range has been designed by their engineers in Milan and on the new ranges a joint involvement with the Eurotherm development has evolved the latest 2 products.
ERO has a proud reputation for providing a range of products that offer not just functionality at an affordable level, but also high quality and reliabilty that is in built from the design stages.

The range covers not only simple auto tuning controllers but also includes high performance process conrollers, profile control, indicators and alarm units plus a range of Solid State Relays.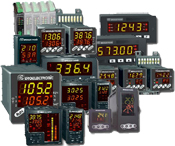 ERO UK has been formed to give a clear vision within the UK that an active full support for the ERO Electronic brand is in existance.

ERO UK is set up to offer:

Supply of product from a UK stock
Configuration of instruments, allowing out of box use, "fast start up"
Telephone support
UK based repairs and service
UKAS traceable calibration service, either in-house or on-site
Application solving using the ERO brand
Full assistnce in converting over new instruments from early versions or even other manufacturers
Site visits to assist in ongoing issues
Reseller support and training
End user training